Step 1.
Type exactly what is written in the red circle into your Internet explorer window. (Must be exactly the same) 220.245.90.188
You may be asked to download a small file from Geovision, please say yes.

Step 2.
Click the submit button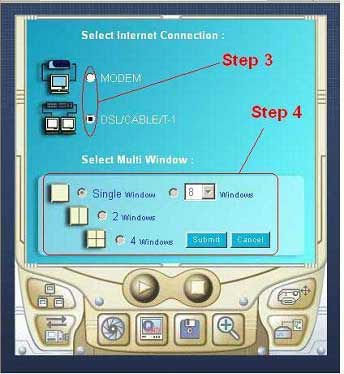 Step 3.
If you have broadband Internet like ADSL, cable or ISDN, choose that option. If you have 56K modem, please choose modem.

Step 4.
Choose how many cameras you would like to view at once. For 56K modem dial up, only one camera can be viewed at one time. Click submit to continue.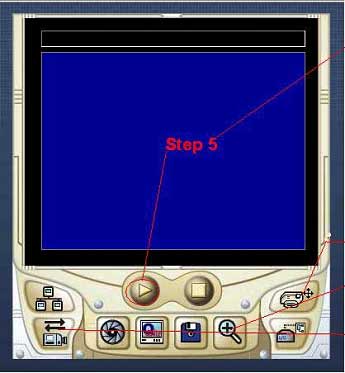 Step 5.
Press Play, then enter the user name and password
Username: austral
Password: 1234

Remember that these are case sensitive
Please note that cameras work best during daytime under lit conditions. If the machine does not connect within 3 minutes, please contact us on 1300 130 508.

You will require a current version of Internet explorer and 'Direct X'. The system will let you know if you do not have this and lead you to a site to download it.

Notes:

1. This demo uses the built in FTP client supplied with the Multiguard software. This allows anybody using MS Internet Explorer to log on without having to install special software.

2. Multiguard units are also supplied with Geovision Remote View software, which provides more multi-camera viewing via all TCP-IP protocols.

3. Demo PC is using a 256K upstream ADSL connection. Viewing speed is determined by several factors including the number of people viewing remote footage at the one time, remote internet connection method (ADSL vs. 56K) etc.

4. Remote view system may not be running all the time. If an attempt is made to log on without success, please contact us for assistance or alternatives.

5. ADSL/ISDN USERS If you do not know what your download limitations are, please do not stay connected for too long as you may exceed your download limitation.